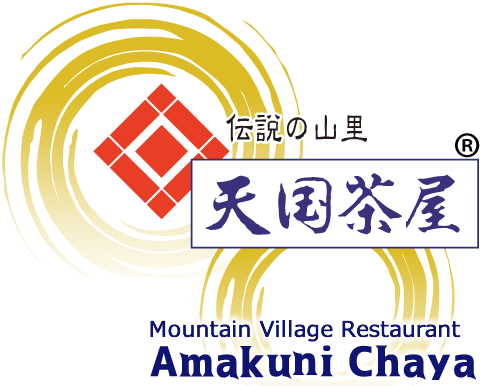 Our attention to domestically-sourced ingredients and charcoal grilling
Since opening in 1970 as a restaurant that offers seasonal local cuisine and specializes in wild-picked matsutake mushroom dishes, we have remained dedicated to the use of domestically-sourced natural ingredients and charcoal grilling. We strive to be a restaurant of local cuisine where guests can enjoy the process of grilling locally-sourced ingredients on a charcoal irori hearth with all their senses.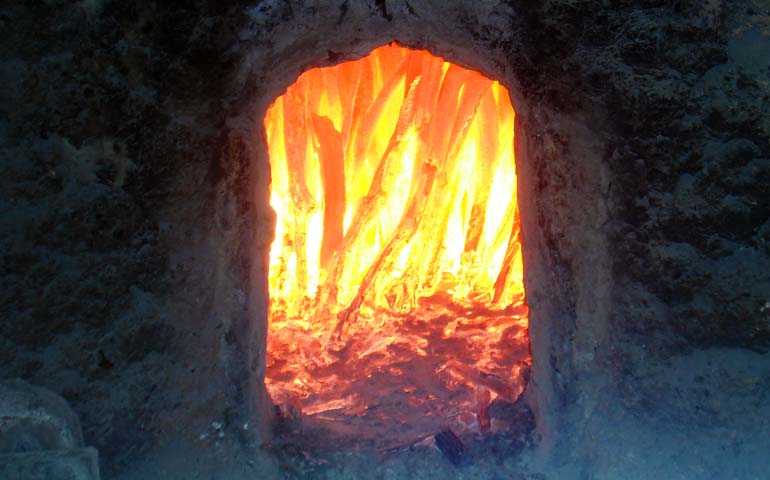 Our kiln for making charcoal
At Amakuni Chaya, charcoal grilling allows you to experience the grilling, and good taste of the locally-sourced ingredients to the fullest. This is why we make our own charcoal in-house. Nowadays, much of the natural food used in Japan is sourced from overseas. However, our restaurant, since its opening, has preserved the traditional culinary culture, exclusively using domestically-produced natural ingredients.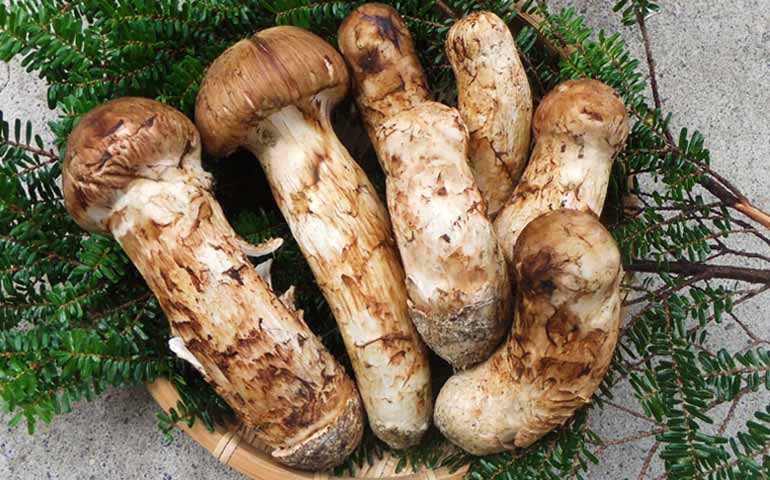 Grilled tsuga-matsutake mushrooms from Iwate Prefecture have a characteristic aroma.
Domestic matsutake mushrooms are a high-class ingredient in Japanese cuisine often served as part of kaiseki ryori, the refined style of Japanese cooking originating in the art of tea ceremony. At our restaurant, however, they are cooked in an older style of cooking that is traditional in this region. We also have original recipes like our Amakuni Chaya-style matsutake mushroom rice and our miso and soy source -preserved matsutake mushrooms.
Our preserved matsutake mushrooms were previously available only at the restaurant, but they can now be sent for home use or as a gift.
Guests from all of Japan and the world have enjoyed the experience of eating at one of our warm irori hearths while enjoying friendly conversation. Use all of your senses to feel the fragrances, sounds, tastes, textures, and intangible qualities of the natural ingredients being grilled over charcoal in front of you.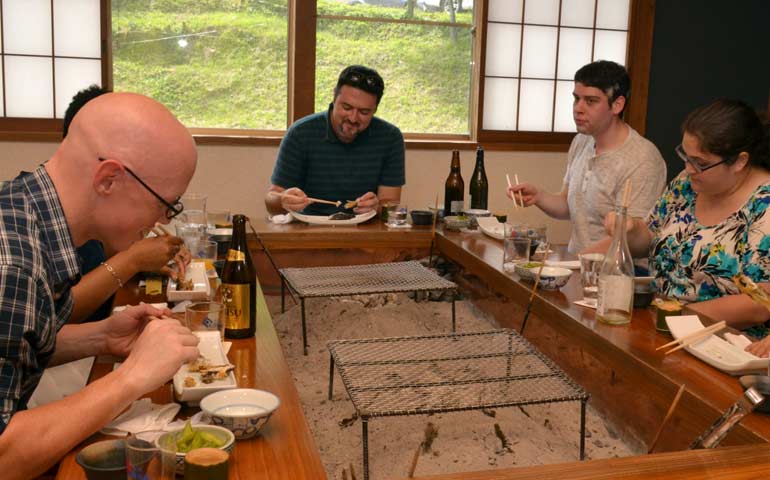 Historic and attractive atmosphere
Enjoy eating in a relaxed, attractive atmosphere. We have paid a lot of attention to our restaurant's interior. The top boards of the irori hearths in our spacious dining room are made from solid caster aralia, Japanese zelkova, and chestnut. The top boards of the irori hearth in Ikkei-an Sakura, one of our private dining rooms, are made of solid cherry sourced from trees in the family graveyard of the Matsudaira clan, the lords of the Aizu Domain. Its ceiling lattice is made of cherry and Japanese red pine from the Matsudaira family graveyard. In Ikkei-an Keyaki, our other private dining room, the top boards and ceiling lattices are made of solid Japanese red pine sourced from trees in the Matsudaira family graveyard and Tsurugajo Castle.
You can truly feel the history of Aizu in the wood. (Contact us in advance if you would like to use our private dining room.)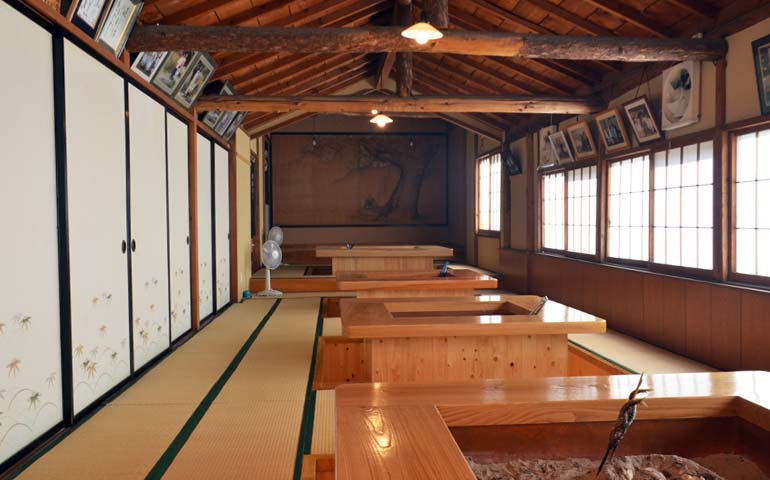 Spacious Dining Room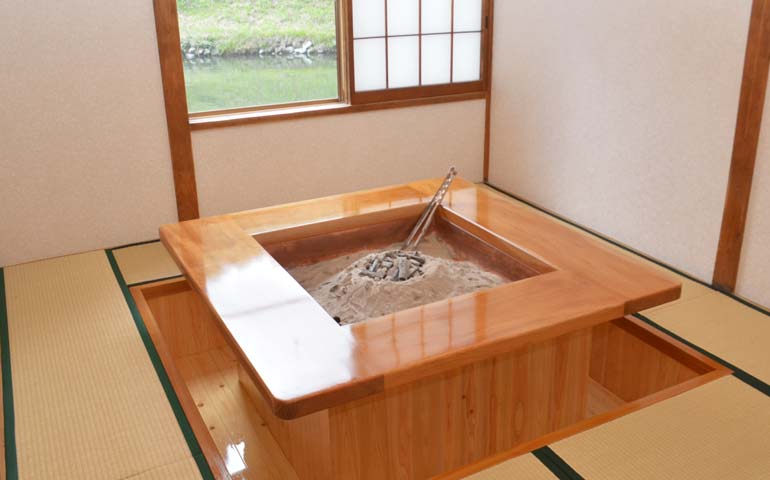 Private Dining Room, Ikkei-an Sakura
Our entrance doors are made of solid Japanese red pine sourced from trees in Tsurugajo Castle. Lead bullets from the Boshin War (1868-1869) were found when the wood was milled, showing how fierce the war was. The bullets are on display at our restaurant.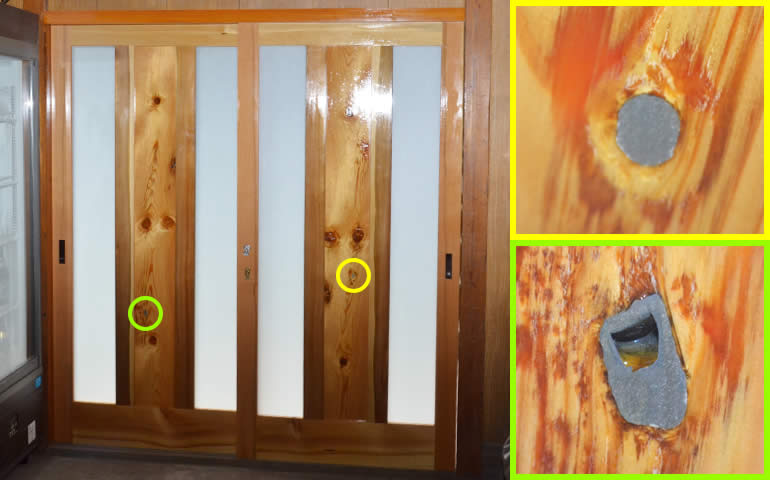 Name of our restaurant
Located in the north of the Aizu region is Mt. Bandai, a mountain long worshiped by people in the region. To the west of the region flows a large river named Agagawa River, or Okawa River. Our restaurant stands on the bank of the Agagawa River with a backdrop of mountains and streams behind us. From old times, those mountains have been rich in mountain plants, with river fish such as char swimming in the mountain streams and sweetfish swimming in Agagawa River. In autumn, salmon can be seen swimming upstream from the Sea of Japan to Agagawa River. Japanese nutmeg trees bearing medicinal and nutritious nuts thrive around the uppermost reaches of the mountain streams.
Over the course of time, people started referring to the Agagawa River as "Sanzu-no-kawa," the Buddhist equivalent of the River Styx, and to the naturally lush bank of the river where our restaurant stands on as "tengoku," meaning heaven. People also compared the mountains behind our restaurant to "tengoku-yama," meaning heavenly mountains, and the mountain streams to "tengoku-sawa," meaning heavenly streams)."
Our restaurant was named in reverence to these ancient traditions, with "amakuni" being another reading of the characters for heaven, and "chaya" meaning tea house.